Real time movies versus frozen snapshots
Audits of everyday life in classrooms
Abstract
This essay aims to analyse two different forms of contemporary stories: pupils' and adults' audits of what goes on in classroom life. This was done by making a distinction between unofficial and official inspections. In the essay, I show that unofficial inspections are carried out by pupils, most likely with the aim of providing those of us outside the classrooms with real time movies to inform us about what takes place during life in classrooms. I go on to show that pupils highlight aspects of the complex everyday life in classrooms in a different way than the official inspections, which are performed by adult officials from agencies such as the Swedish Schools Inspectorate and are more likely to be understood as frozen snapshots. In analysing this issue, the stories of everyday classroom life, this essay highlights sixteen differences between unofficial and official inspections. These differences relate to who is carrying out the inspection, how the inspection was conducted, what the inspection focused on, when the inspection took place, and why. The analysis also highlight eight similarities between unofficial and official inspections. These relate to what was being observed, the benefit of the inspections and the motives behind the observation. The essay concludes with arguments regarding observations by unofficial audits supplementing and adding other qualities than the official one, by indicating secondary and tertiary qualities of a different intentional depth.
References
Abowitz, Kathleen Knight. "A pragmatist revisioning of resistance theory." American Educational Research Journal, 4, (2000): 877-907. https://doi.org/10.3102/00028312037004877
Bogdan, Robert C. and Sari Knopp Biklen. Qualitative Research for Education: An Introduction to Theories and Methods. Boston: Pearson, 2007.
Bohlin, Ingemar. "Systematiska översikter, vetenskaplig kumulativitet och evidensbaserad pedagogik." Pedagogisk Forskning i Sverige, 15, (2010): 164–186.
Brembeck, Helene and Barbro Johansson and Jan Kampmann, eds. Beyond the competent child. Exploring childhoods in Nordic welfare states. Roskilde: Roskilde University Press, 2004.
Bryman, Alan. Social Research Methods. Oxford: Oxford University Press, 2015.
Burgess, Jean and Joshua Green. YouTube: Online Video and participatory culture. Cambridge: Polity Press, 2009.
Caygill, Howard. On resistance: A Philosophy of Defiance. London: Bloomsbury Academic, 2013.
Cochran-Smith, Marilyn. "Att bevara komplexiteten i läraryrket: policy, forskning och praxis". Venue, 2, (2015): 1–7.
Dunkels, Elza."Nätkulturer: Vad gör barn och unga på internet?" Tidskrift för lärarutbildning och forskning, 1–2, (2005): 41–49.
Dunkels, Elza. Vad gör unga på nätet? Malmö: Gleerups, 2012.
Eriksson Barajas, Katarina and Cristina Forsberg and Yvonne Wengström. Systematiska litteraturstudier i utbildningsvetenskap. Stockholm: Natur & Kultur, 2013.
Enkvist, Inger. "Forskningen som är en del av problemet". Svenska Dagbladet, 16 July, 2016: A3.
Foucault, Michel. The history of sexuality: An Introduction. London: Penguin Books, 1990.
Giroux, Henry. Theory and resistance in education. Towards a pedagogy for the opposition. Westport: Bergin & Garvey, 2001.
Goffman, Erving. Jaget och maskerna: En studie i vardagslivets dramatik. Stockholm: Norstedts, 2009.
Granström, Kjell "Om tillförlitlighet i observationer inom forskning och psykologisk praktik." Nordisk Psykologi, 56, (2004): 289–303. https://doi.org/10.1080/00291463.2004.10637450
Hattie, John. Visible Learning. A Synthesis of Over 800 Meta-Analyses Relating to Achievement. London: Routledge, 2009.
Hirschman, Albert O. Sorti eller protest. Lund: Arkiv Förlag, 2008.
Håkansson, Jan and Daniel Sundberg. Utmärkt undervisning: Framgångsfaktorer i svensk och internationell belysning. Stockholm: Natur & Kultur, 2012.
Jackson, Philip, W. Life in classrooms. New York, NY: Teachers Collegue Press, 1968.
James, Allison and Prout, Alan. Constructing and reconstructing childhood. New directions in the sociological study of childhood. London: Falmer, 1990.
Lange, Patricia, G. Kids on Youtube: Technical identities and digital literacies. Walnut Creek: Left Coast Press, Inc, 2014.
Locke, John. An Essay Concerning Human Understanding. Oxford: Oxford University press, 1975.
Naess, Arne. Ekologi, samhälle och livsstil, Stockholm: LTs Förlag, 1981.
Prensky, Marc. "Digital Natives, Digital Immigrants" On the Horizon 9.5 (2001): s. 1-6. https://doi.org/10.1108/10748120110424816
Samuelsson, Marcus. "The Competent Youth's Exposure of Teachers at YouTube.se." Youth culture and net culture: online social practices, Eds. Elza Dunkels and Gun-Marie Frånberg and Camilla Hällgren. Hershey, PA: IGI Global, 2011. 243-255. https://doi.org/10.4018/978-1-60960-209-3.ch014
Snelson, Chareen. "Vlogging about school on YouTube: An exploratory study." New Media and Society, 17, (2015): 321-339. https://doi.org/10.1177/1461444813504271
Suler, John. "The online disinhibition effect". Cyberpsychology & Behaviour, 3, (2004): 321-326. https://doi.org/10.1089/1094931041291295
Swedish National Agency for Education. Decision 03/11/2015 Ref. no. 43-2015:3907. Stockholm: The Swedish National Agency for Education, 2015.
Swedish National Agency for Education. PISA 2015. 15-åringars kunskaper i matematik, läsförståelse och naturkunskap. (Report 450). Stockholm: Swedish National Agency for Education, 2016.
Swedish Parliament. Brottsbalken 1962:700. Stockholm: Swedish Parliament, 2013.
Swedish Parliament. Svensk författningssamling 2010:800. Stockholm: Swedish Parliament, 2010.
Swedish Parliament. Svensk författningssamling 2010:2039. Stockholm Swedish Parliament, 2010.
Tranströmer, Tomas. Minnena ser mig. Stockholm: Albert Bonniers Förlag, 1993.
Ullman, Linn. De oroliga. Stockholm: Albert Bonniers Förlag, 2016.
Ziehe, Thomas. "Engagement and abstention: Youth and the school in the second modernization." European Education, 31, (2000): 6–21. https://doi.org/10.2753/EUE1056-493431046
Ziehe, Thomas. "'Normal learning problems' in youth: In the context of underlying cultural convictions." Contemporary theories of learning: Learning theorists ... in their own words. Ed. Knut Illeris. London: Routledge, 2010. 184-199.
Ziehe, Thomas. Tidstypiska menings- och handlingskriser hos ungdomar. Venue, 12, (2012): 1-7.
Žižek, Slavoj. Irak: att få låna en kittel. Munkedal: Glänta produktion och Vertigo förlag, 2004.
Øksnes, Maria and Marcus Samuelsson. "«Nei, jeg gjør det på min måte!» Motstand i barnehagen." Barndom i barnehagen: Motstand. Eds. Maria Øksnes and Marcus Samuelsson. Oslo: Capellen Damm Forlag, 2017. 11-41.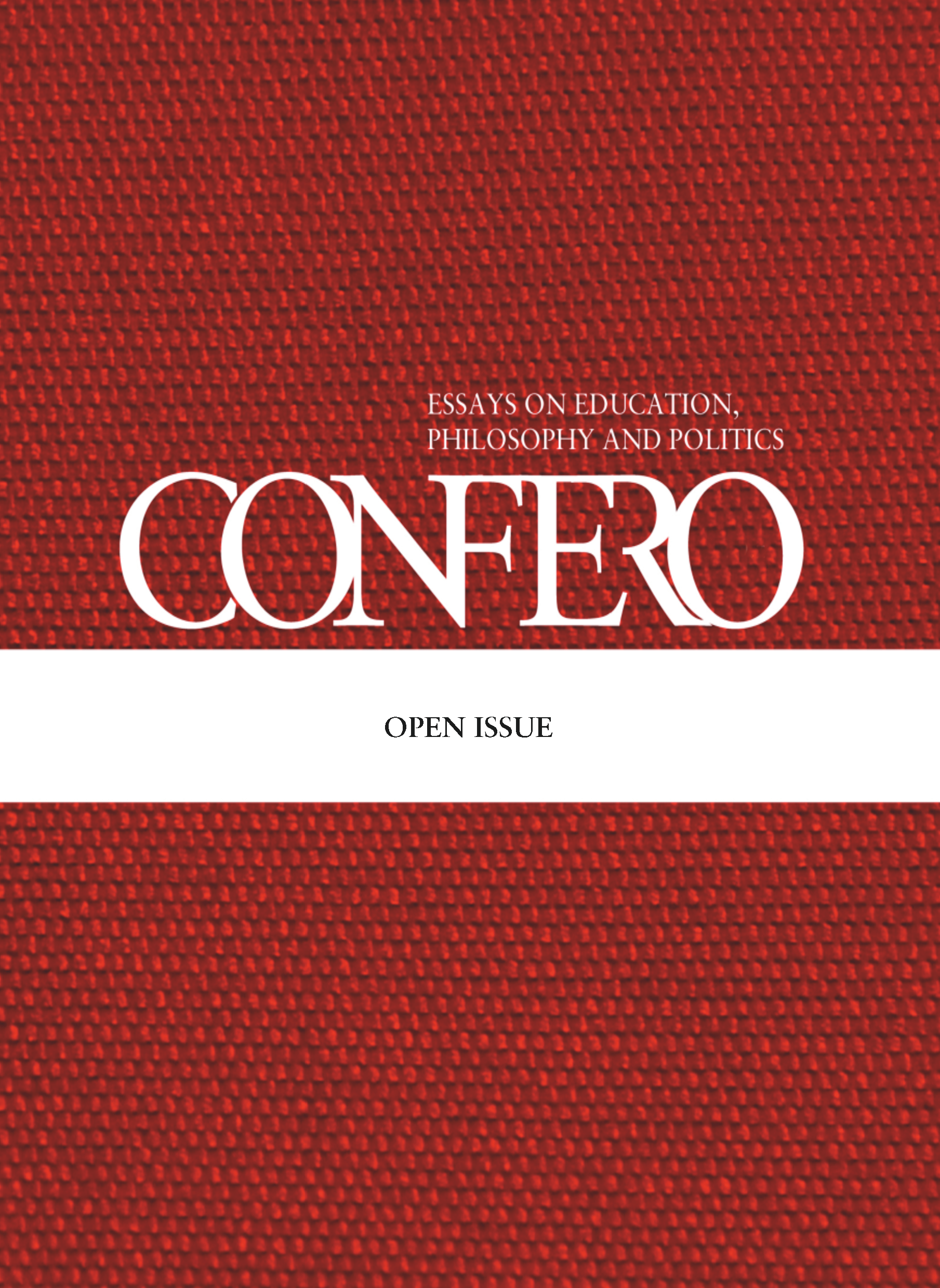 Downloads
License
Copyright (c) 2017 Marcus Samuelsson
This work is licensed under a Creative Commons Attribution 4.0 International License.
As Confero is an open access journal, this means that anyone who can access the Internet can freely download and read the journal. There are no commercial interests for Linköping University Electronic Press or Confero in publishing the journal.
The core idea of open access is that copyright remains with the author(s). However, we publish with the agreement of the author that if she or he decides later to publish the article elsewhere, that the publisher will be notified, prior to any acceptance, that the article has already been published by Confero.
When publishing with Confero, it is with the agreement of the author that if they make their article available elsewhere on the internet (for example, on their own website or an institutional website), that they will do so by making a link to the article as published in Confero using the Digital Object Identifier (DOI) number of the article and acknowledge in the text of the site that the article has been previously published in Confero.
As evident by the markers on our homepage, Confero falls under the Creative Commons licence abbreviated BY. This means that we allow others to use, spread and elaborate on the published articles, as long as they acknowledge who published it and where it was originally published.