Sámi time, space, and place
Exploring teachers' metapragmatic statements on Sámi language use, teaching, and revitalization in Sápmi
Abstract
Late in the evening before a regular school day, the mother of a Sámi family gets a call from her husband working at the reindeer corral saying that the reindeer will be brought in for separation and round-up early in the next morning. In the morning the rest of the family will join the father and other relatives at the reindeer corral and will be working late with the reindeers that day. At school the teachers get the information about the reindeer roundup from those children that are present in the morning, or from Sámi colleagues that have also gone to the corral. That day must, for the most part, be rescheduled at very short notice. The reactions to the changes are varying amongst the staff. The time used for rescheduling and planning the rest of that school day, or the coming couple of days, is not something that any member of the staff is looking forward to, but the attitudes, frustration and values that relate to the unpredictability of everyday life and the peculiarities of this particular cultural context are experienced in many different ways.
References
Aikio-Puoskari, Ulla. Rapport om den samiska undervisningen i grundskolorna i Norden: en nordisk jämförelse med utgångspunkt i undervisningens grundförutsättningar [Report about Sámi education in primary schools in the Nordic countries: a nordic comparison targeting the premises of education]. Inari, Finland: Samiska parlamentariska rådet [Sámi Parlamentary Council], 2006.
Appadurai, Arjun. Grassroots globalization and the research imagination. Public Culture, 12:1 (2000): 1-19. doi: 10.1215/08992363-12-1-1
Balto, Asta, and Liv Østmo. Multicultural studies from a Sámi perspective: Bridging traditions and challenges in an indigenous setting. Issues in Educational Research, 22:1 (2012): 1-17.
Balto, Asta. Samisk barneoppdragelse i endring [Changing child upbringing among the Sámi]. Oslo, Norway: Ad Notam, 1997.
Blommaert, Jan. Sociolinguistics and Discourse Analysis: Orders of Indexicality and Polycentricity. Journal of Multicultural Discourses 2:2 (2007): 115-130. doi: 10.2167/md089.0
Blommaert, Jan. The Sociolinguistics of Globalization. New York: Cambridge University Press, 2010. doi: 10.1017/CBO9780511845307
Dorian, Nancy C. Western language ideologies and small-language prospects. Endangered Languages. Eds. Lenore A. Grenoble and Lindsay J. Whaley. Cambridge: Cambridge University Press, 1998.
Feld, Steven, and Keith Basso, eds. Senses of place. Santa Fe, NM: School of American Research Press, 1996.
Flores, Nelson, & Jamie L. Schissel. Dynamic bilingualism as the norm: Envisioning a heteroglossic approach to standards-based reform. TESOL Quarterly, 48:3 (2014): 454-479. doi: 10.1002/tesq.182
Gal, Susan. Language and political economy. Annual Review of Anthropology, 18 (1989): 345-367. doi: 10.1146/annurev.an.18.100189.002021
Gal, Susan. Making boundaries: How language ideologies construct difference. Unpublished manuscript. 1997.
Gal, Susan, and Judith T. Irvine. The boundaries of languages and disciplines: How ideologies construct difference. Social Research, 62:4 (1995): 967-1001.
Gáldu organization. The Sámi - One people in four countries. The Sámi - a Handbook. Karasjok, 2006. http://www.galdu.org/govat/doc/eng_sami.pdf [Retrieved 26th January 2015]
Groff, Cynthia. Language, education, and empowerment: Voices of Kumauni young women in multilingual India. Unpublished doctoral dissertation, University of Pennsylvania, Graduate School of Education, Philadelphia, PA, 2010.
Hawkins, Margaret. Ontologies of Place, Creative Meaning Making and Critical Cosmopolitan Education. Curriculum Inquiry 44:1 (2014): 90-112. doi: 10.1111/curi.12036
Hirvonen, Vuokko. 'Out on the fells, I feel like a Sámi': Is there linguistic and cultural equality in the Sámi school? Can Schools Save Indigenous Languges? Policy and Practice on Four Continents (1. ed.). Ed. Nancy H. Hornberger. Basingstoke: Palgrave Macmillan, 2008.
Hornberger, Nancy H. Bilingual Education and Language Maintenance: A Southern Peruvian Quechua Case. Berlin: Mouton, 1988. doi: 10.1515/9783110849158
Hornberger, Nancy H., ed. Indigenous Literacies in the Americas: Language Planning from the Bottom up. Berlin: Mouton, 1996.
Hornberger, Nancy H. Multilingual language policies and the continua of biliteracy: An ecological approach. Language Policy, 1:1 (2002): 27-51. doi: 10.1023/A:1014548611951
Hornberger, Nancy H. Nichols to NCLB: Local and global perspectives on U.S. language education policy. Imagining Multilingual Schools: Languages in Education and Glocalization. Eds. Ofelia García, Tove Skutnabb-Kangas, and María Torres-Guzmán. Clevedon, UK: Multilingual Matters, 2006. 223-237
Hornberger, Nancy H., and David Cassels Johnson. Slicing the onion ethnographically: Layers and spaces in multilingual language education policy and practice. TESOL Quarterly, 41:3 (2007): 509-532.
Hornberger, Nancy H., and Teresa L. McCarty. Globalization from the bottom up: Indigenous language planning and policy across time, space, and place. International Multilingual Research Journal, 6:1 (2012): 1-7. doi: 10.1080/19313152.2012.639251
Hymes, Dell. Ethnography, Linguistics, Narrative Inequality: Toward An Understanding of Voice (1. ed.). London: Taylor & Francis, 1996.
Huss, Leena. Revitalization through Indigenous education: a forlorn hope? Can Schools Save Indigenous Languages? Policy and Practice on Four Continents. Ed. Nancy H. Hornberger. Basingstoke UK: Palgrave Macmillan, 2008. 125-135.
Irvine, Judith T., and Susan Gal. Language Ideology and Linguistic Differentiation. Regimes of language: Ideologies, polities, and identities. Ed. Paul Kroskrity. Santa Fe: School of American Research Press, 2000.
Jannok Nutti, Ylva. Ripsteg mot spetskunskap i samisk matematik: lärares perspektiv på transformeringsaktiviteter i samisk förskola och sameskola [Taking ptarmigan steps towards excellence in Sámi mathematics: teachers perspectives on the transformational activities in Sámi pre-school and Sámi school]. Diss. Luleå, Sweden : Luleå University of Technology, 2010.
Keskitalo, Pigga. Saamelaiskoulun kulttuurisensitiivisyyttä etsimässä kasvatusantropologian keinoin. [Cultural sensitivity in the Sámi school through educational anthropology]. Diss. Rovaniemi, Finland: Lapin yliopisto, 2010.
Keskitalo, Pigga, Kaarina Määttä, and Satu Uusiautti. "Language Immersion Tepee" as a Facilitator of Sámi Language Learning. Journal of Language, Identity & Education, 13:1 (2014): 70-79. doi: 10.1080/15348458.2014.864215
Kroskrity, Paul V. Language ideologies. A Companion to Linguistic Anthropology. Ed. Alessandro Duranti. Malden: Blackwell Publishing, 2006. 496-517.
Kroskrity, Paul V. Language Ideologies: Evolving Perpectives. Handbook of Pragmatics Highlights: Society and Language Use. Eds. Jan-Ola Östman, Jef Verschueren, and Jürgen Jaspers. Herndon, VA: John Benjamins, 2010. 192-211.
Kroskrity, Paul V. Regimenting Languages: Language Ideological Perspectives. Regimes of Language: Ideologies, Polities, and Identities. Ed. Paul Kroskrity. Santa Fe: School of American Research Press, 2000. 1-34.
Kroskrity, Paul V., and Margaret Field, eds. Native American language ideologies: beliefs, practices, and struggles in Indian country. Tucson, AZ: University of Arizona Press, 2009.
Kuokkanen, Rauna. Boaris dego eana: eamiálbmogiid diehtu, filosofiijat ja dutkan. [Old as the earth: Indigenous peoples' knowledge, philosophies and research]. Kárás?johka [Karasjok], Norway: CálliidLágádus, 2009.
May, Stephen. Maori-medium education in Aotearoa/New Zealand. Medium of Instruction Policies: Which Agenda? Whose Agenda? Eds. James W. Tollefson and Amy B. M. Tsui. Mahwah, NJ: Lawrence Erlbaum. 2004. 21-41.
McCarty, Teresa L. A Place To Be Navajo--Rough Rock and the Struggle for Self-Determination in Indigenous Schooling. Mahwah, NJ: Lawrence Erlbaum, 2002.
McCarty, Teresa L., Sheilah E. Nicholas, and Leisy T. Wyman. Re-emplacing place in the "global here and now" -- Critical ethnographic case studies of Native American language planning and policy. International Multilingual Research Journal, 6:1 (2012): 50-63. doi: 10.1080/19313152.2012.639244
McCarty, Teresa L., and Ofelia Zepeda. Native Americans. Handbook of language and ethnic identity (2. ed.). Eds. Joshua A. Fishman and Ofelia García. Oxford, England: Oxford University Press, 2010. 323-339.
Määttä, Kaarina, Pigga Keskitalo, and Satu Uusiautti. Making the dream of a Sámi School come true: Voices from the field. Journal of Language Teaching Research, 4:3 (2013): 443-453. doi: 10.4304/jltr.4.3.443-453
Nicholas, Sheilah. "I live Hopi, I just dont speak it:" The critical intersection of language, culture, and identity in the lives of contemporary Hopi youth. Journal of Language, Identity, and Education 8:5 (2009): 321-334. doi: 10.1080/15348450903305114
Outakoski, Hanna, Eva Lindgren, Asbjørg Westum, and Kirk P. H. Sullivan. Researching writing development to support language maintenance and revitalization: methodological challenges. Indigenous Writing and Education. Eds. Kirk P. H. Sullivan and Coppélie Cocq. Leiden, Netherlands: Brill Publishing, In press.
Pasanen, Annika. Kielipesä ja revitalisaatio: Karjalaisten ja inarinsaamelaisten kielipesätoiminta [A language nest and revitalization: Language nest activity among the Karelians and the Inari Sámi]. Helsinki, Finland: University of Helsinki, 2003.
Pascual-de-Sans, A. Sense of place and migration histories: Idiotopy andidiotope. Area, 36:4 (2004): 348–357. doi: 10.1111/j.0004-0894.2004.00236.x
Pennycook, Alastair. Incommensurable discourses? Applied Linguistics, 15:2 (1994): 115-138. doi: 10.1093/applin/15.2.115
Pettersen, Torunn. Out of the Backwater? Prospects for contemporary Sami Demography in Norway. Indigenous peoples and demography: the complex relation between identity and statistics. Eds. Per Axelsson and Peter Sköld. New York: Berghahn, 2011. 185-196.
Pettersen, Torunn, and Magritt Brustad. Which Sámi? Sámi inclusion criteria in population-based studies of Sámi health and living conditions in Norway - an exploratory study exemplified with data from the SAMINOR study. International Journal of Circumpolar Health, Vol 72 (2013): 1-11. doi: 10.3402/ijch.v72i0.21813
Schieffelin Bambi, Kathryn Woolard, and Paul Kroskrity, eds. Language Ideologies: Practice and Theory. New York: Oxford University Press, 1998.
Rasmussen, Torkel. "Go ealáska, de lea váttis dápmat": davvisámegiela etnolingvisttalaš ceavzinnávccaid guorahallan guovtti gránnjágielddas Deanus ja Ohcejogas 2000-logu álggus. [When it gains strength it will be difficult to hold down: examination of the ethno-linguistic vitality of North Sámi in the two neighboring municipalities of Deatnu/Tana in Norway and Ohcejohka/Utsjoki in Finland in the beginning of 2000]. Diss. Tromsø, Norway: Universitetet i Tromsø, 2013. URI: http://hdl.handle.net/10037/5593
Razfar, Aria. Narrating Beliefs: A Language Ideologies Approach to Teacher Beliefs. Anthropology and Education Quarterly, 43:1, (2012): 61-81.
SENC. The Encyclopedia of Saami Culture – English version. Helsinki, Finland: University of Helsinki, 2003. http://www.helsinki.fi/~sugl_smi/senc/en/index.htm [Retrieved 11th August 2014].
Seurujärvi-Kari, Irja. Ale jaskkot eatnigiella: Alkuperäiskansanliikkeen ja saamen kielen merkitys saamelaisten identiteetille. [Don't get silent mother tongue: the significance of Indigenous movement and Sámi language for Sámi identity]. Diss. Helsinki, Finland: Helsinki University, 2012.
Silverstein, Michael. Language structure and linguistic ideology. The elements: A Parasession on Linguistic Units and Levels. Eds. P. R. Clyne et al. Chicago: Chicago Linguistic Society, 1979. 193-247.
Skutnabb-Kangas, Tove. Bilingualism or Not: The Education of Minorities. Clevedon, England: Multilingual Matters. 1981.
Svonni, Mikael. Samiska skolbarns samiska: en undersökning av minoritetsspråksbehärskning i en språkbyteskontext [The Saami of Saami school children : a study of minority language proficiency in a context of language change]. Diss. Umeå, Sweden: Umeå University, 1993.
Todal, Jon. Samisk språk i Svahken Sijte. Sørsamisk vitalisering gjennom barnehage og skule [Sámi language in Svahken Sijte. Revitalization of South Sámi through daycare and school]. Diedut nr. 1/2007. Guovdageaidnu, Norge/Norway: Sámi Instituhtta, 2007.
Wyman, Leisy T. Youth Culture, Language Endangerment, and Linguistic Survivance. Bristol, UK: Multilingual Matters, 2011.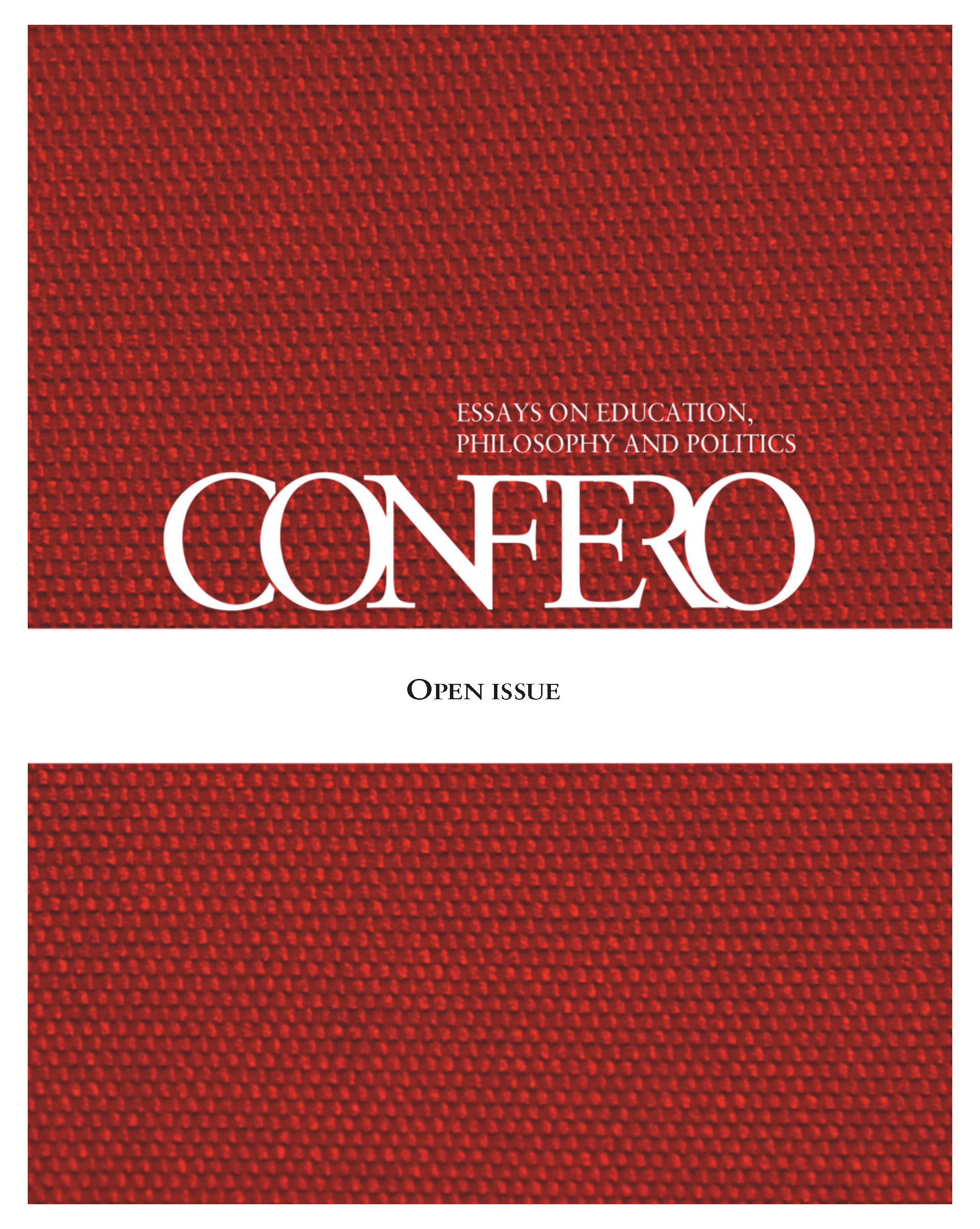 Downloads
License
Copyright (c) 2015 Nancy H. Hornberger, Hanna Outakoski
This work is licensed under a Creative Commons Attribution 4.0 International License.
As Confero is an open access journal, this means that anyone who can access the Internet can freely download and read the journal. There are no commercial interests for Linköping University Electronic Press or Confero in publishing the journal.
The core idea of open access is that copyright remains with the author(s). However, we publish with the agreement of the author that if she or he decides later to publish the article elsewhere, that the publisher will be notified, prior to any acceptance, that the article has already been published by Confero.
When publishing with Confero, it is with the agreement of the author that if they make their article available elsewhere on the internet (for example, on their own website or an institutional website), that they will do so by making a link to the article as published in Confero using the Digital Object Identifier (DOI) number of the article and acknowledge in the text of the site that the article has been previously published in Confero.
As evident by the markers on our homepage, Confero falls under the Creative Commons licence abbreviated BY. This means that we allow others to use, spread and elaborate on the published articles, as long as they acknowledge who published it and where it was originally published.