The (care) robot in science fiction
A monster or a tool for the future?
Abstract
Abstract not available.
References
Attebery, Brian. Decoding Gender in Science Fiction. New York: Routledge, 2002.
Balsamo, Anne. "Reading Cyborgs, Writing Feminism."The Gendered Cyborg: A Reader. Eds. Gill Kirkup, Linda Janes, Kath Woodward and Fiona Hovenden. London: Routledge, 2000. 148–58.
Booker, M. Keith. Science Fiction Television. Westport: Praeger, 2004.
Dinello, Daniel. Technophobia! Science Fiction Visions of Posthuman Technology. University of Texas Press, 2005.s
Geraghty, Lincoln. American Science Fiction Film and Television. Oxford: Berg, 2009.
Haraway, Donna J. Simians, Cyborgs and Women: The Reinvention of Nature. New York: Routledge, 1991.
Haraway, Donna J. "The Promises of Monsters: A Regenerative Politics for Inappropriate/d Others." Cultural Studies. Ed. Lawrence Grossberg, Cary Nelson, and Paula A. Treichler. New York: Routledge, 1992. 295–337.
Hellstrand, Ingvil. Passing as Human: Posthuman Worldings at Stake in Contemporary Science Fiction. Stavanger: University of Stavanger, 2015 (PhD thesis UiS, no. 244).
Jackson, Earl Jr. Strategies of Deviance: Studies in Gay Male Representation. Bloomington: Bloomington Unveristy Press, 1995.
Juhola, Teemu. "Tämä kaunotar on robotti – Jia Jia liikkuu, puhuu ja ilmeilee. Tutkijoiden mukaan Kiinassa tehty Jia Jia -robotti voisi toimia palveluammatissa." [This beauty is a robot – Jia Jia moves, talkes and makes faces. Researchers say that the Jia Jia robot made in China could work in a service occupation.] YLE 25 April 016. http://yle.fi/uutiset/tama_kaunotar_on_robotti__jia_jia_liikkuu_puhuu_ja_ilmeilee/8835943 [retrieved 5 May 2016].
Kakoudaki, Despina: "Pinup and cyborg: Exaggerated gender and artificial intelligence." Future Females, the Next Generation: New Voices and Velocities in Feminist Science Fiction Critisism. Ed. Marleen S. Barr. Lanham, Maryland: Rowman & Littlefield, 2000. 165–196.
Kirby, David: "The Future is Now: Diegetic Prototypes and the Role of Popular Films in Generating Real-world Technological Development." Social Studies of Science 40.1 (2010): 41–70. DOI: 10.1177/0306312709338325
Kirman, Ben, Conor Linehan, Shaun Lawson, and Dan O'Hara: "CHI and the Future Robot Enslavement of Humankind; A Retrospective." Proceedings of SIGCHI Conference on Human Factors in Computing Systems Extended Abstracts, 2013. Available at: http://eprints.lincoln.ac.uk/7569/1/robots_authors_version.pdf [retrieved 28 November 2016].
Koistinen, Aino-Kaisa, a: The Human Question in Science Fiction Television: (Re)Imagining Humanity in Battlestar Galactica, Bionic Woman and V. Jyväskylä Studies in Humanities 248. University of Jyväskylä, 2015. Available at: http://urn.fi/URN:ISBN:978-951-39-6147-3 (permanent link).
Koistinen, Aino-Kaisa, b: "The machine is nothing without the woman'. Gender, humanity and the cyborg body in the original and reimagined Bionic Woman." Science Fiction Film and Television 8.1 (2015): 53–74. DOI: 10.3828/sfftv.2015.3
Koistinen, Aino-Kaisa, c. "Real Humans (Äkta Människor). DVD review." Science Fiction Film and Television 8.3 (2015): 414–418.
Koistinen, Aino-Kaisa. "Passing for Human in Science Fiction: Comparing the TV Series Battlestar Galactica and V." NORA – Nordic Journal of Feminist and Gender Research, 19.4 (2011): 249–263. DOI: 10.1080/08038740.2011.621898
Larbalestier, Justine. The Battle of the Sexes in Science Fiction. Middletown, Connecticut: Wesleyan University Press, 2002.
Mikkonen, Kai, Ilkka Mäyrä, and Timo Siivonen, eds. Koneihminen – kirjoituksia kulttuurista ja fiktiosta koneen aikakaudella. [The machine-human – writings on culture and fiction in the era of the machine.] Jyväskylä: Atena Kustannus Oy, 1997.
Paasonen, Susanna. Figures of Fantasy: Internet, Women, and Cyberdiscourse. New York: Peter Lang, 2005.
Penley, Constance. Nasa/Trek: Popular Science and Sex in America. London: Verso, 1997.
Pihlman, Olga. "Uudenlaiset robotit tekevät yhteistyötä ihmisten kanssa." [New kinds of robots work together with humans.] YLE 21 April 2016. http://yle.fi/uutiset/uudenlaiset_robotit_tekevat_yhteistyota_ihmisten_kanssa/8828416?ref=leiki-uu [retrieved 5 May 2016].
Seppänen, Timo. "Vaikeavammainen Mikael Jordan taistelee saadakseen pitää avustajansa – Ankara kiista Vantaan kaupungin kanssa." [Severely disabled Mikael Jordan is fighting to keep his aid – Difficult fight with the city of Vantaa.] YLE, 1 May 2016. http://yle.fi/uutiset/vaikeavammainen_mikael_jordan_taistelee_saadakseen_pitaa_avustajansa__ankara_kiista_vantaan_kaupungin_kanssa/8848482 [retrieved 5 May 2016].
Spence, Peter. "Robots will replace a quarter of business services workers by 2035, says Deloitte." The Telegraph, 12 July 2016. http://www.telegraph.co.uk/business/2016/07/11/robots-will-replace-a-quarter-of-business-services-workers-by-20/ [retrieved 9 November 2016]. Telotte, J.P. "Introduction. The Trajectory of Science Fiction Television." The Essential Science Fiction Television
Reader. Ed. J.P. Telotte. Lexington: University of Kentucky Press, 2008. 1–34.
Telotte, J. P. Science Fiction TV. New York & London: Routledge, 2014.
"The Bionic Eye." Bionicvision Australia. http://bionicvision.org.au/eye [retrieved 28 September 2014].
Wakefield, Jane. "Foxconn replaces '60,000 factory workers with robots'". BBC, 25 May 2016. http://www.bbc.com/news/technology-36376966 [retrieved 9 November 2016].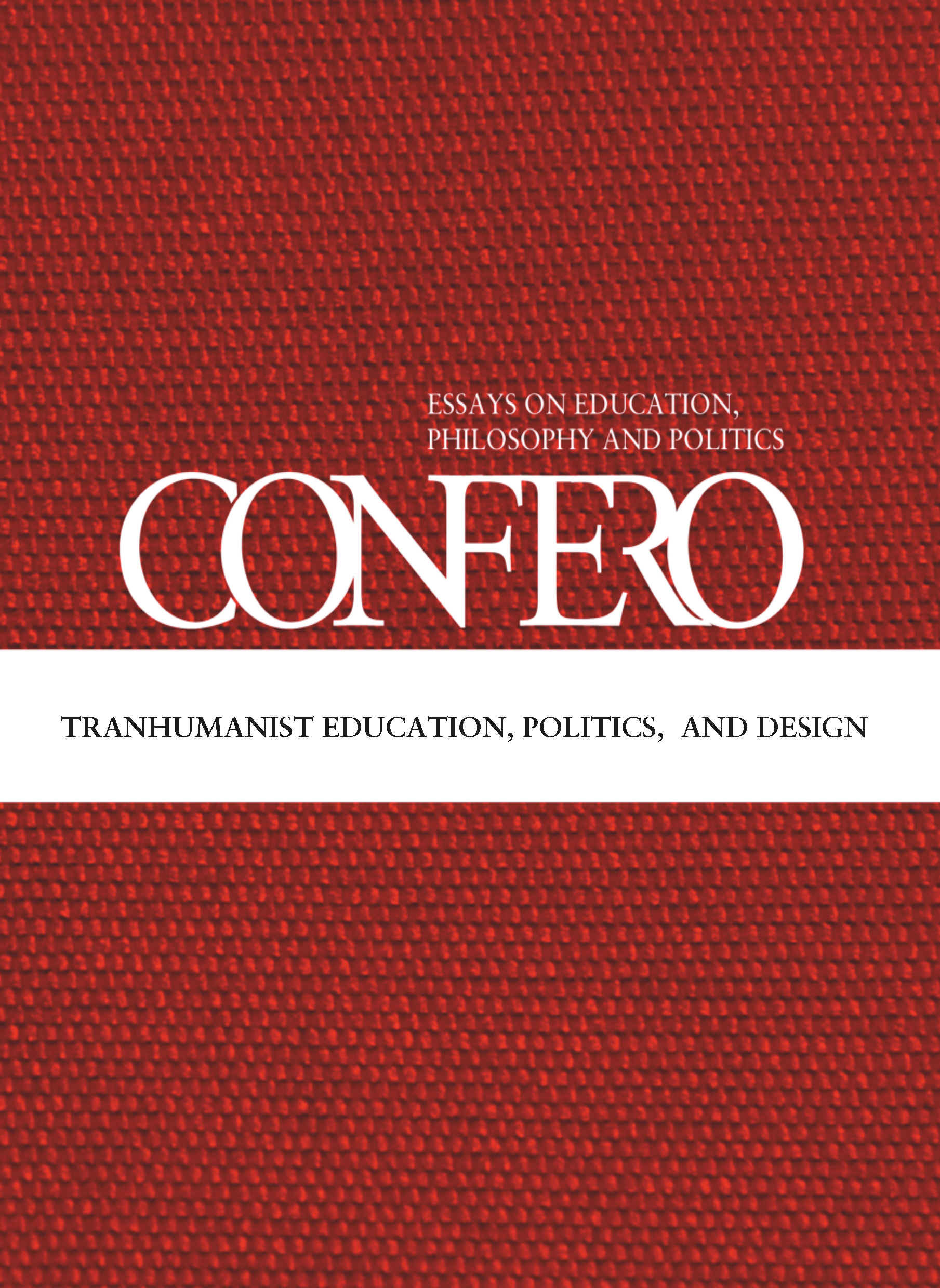 Downloads
License
Copyright (c) 2016 Aino-Kaisa Koistinen
This work is licensed under a Creative Commons Attribution 4.0 International License.
As Confero is an open access journal, this means that anyone who can access the Internet can freely download and read the journal. There are no commercial interests for Linköping University Electronic Press or Confero in publishing the journal.
The core idea of open access is that copyright remains with the author(s). However, we publish with the agreement of the author that if she or he decides later to publish the article elsewhere, that the publisher will be notified, prior to any acceptance, that the article has already been published by Confero.
When publishing with Confero, it is with the agreement of the author that if they make their article available elsewhere on the internet (for example, on their own website or an institutional website), that they will do so by making a link to the article as published in Confero using the Digital Object Identifier (DOI) number of the article and acknowledge in the text of the site that the article has been previously published in Confero.
As evident by the markers on our homepage, Confero falls under the Creative Commons licence abbreviated BY. This means that we allow others to use, spread and elaborate on the published articles, as long as they acknowledge who published it and where it was originally published.